Standing Collar Choir Robe Styles
This collection features our fully fluted standing collar CUSTOM choir robe styles. These custom choir gowns can be made in any of our numerous fabrics, colors or optional monograms. Focus on the styling and ignore the colors shown- your choir robes will be made to YOUR specifications! Pricing depends on fabric choice and optional monograms. Choir stoles are priced separately and are not limited to the pairings shown. More choir stole styles are available at Custom choir stole options
Please contact us or Request Custom Choir Robe Catalog- IMPORTANT: Avoid delays- type (correctly!) the complete information please, including phone number, quantity, etc.
Waverly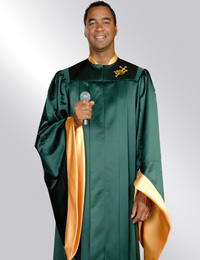 Legato with 709 Overlay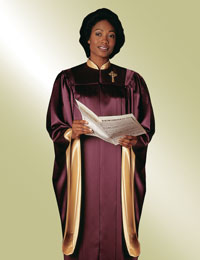 Cathedral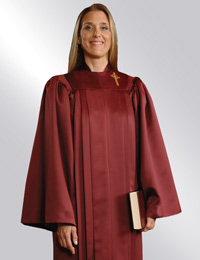 The following standing collar choir robe styles feature a cuff sleeve.
Note that any style can have a cuff sleeve alteration for a nominal fee, which is very useful for the director or accompanist.
| | | |
| --- | --- | --- |
| Epiphany | Galaxy | Crusader |
| Encore | Mandarin | Marquette |
| Tympany | Staccato | Vanda |
| Ashley | Calvary | Celebration |
| Concerto | Andante | Jubilee |
| Eclipse | | |
The following standing collar styles are part of our "dollar stretchers" line, featuring soft gathers rather than machine fluting.
| | | |
| --- | --- | --- |
| Omega | Jubilation | Kuba-MT |
| Orion- has crossover yoke, attached banner | Galilee- has crossover yoke, attached banner | Clarion |
| Cadenza II | Act 24- has back zipper | |
Back to Custom Choir Robe Page